In the center of Agia Efimia you can see the ruins of a roman villa.
The villa had been discovered during an excavation in 2000.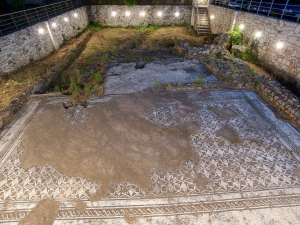 Of the most important rescue works has been the structural restoration of the remains; the reconstruction and restoration of the well, the water channel and a deteriorated niche (a shallow recess); in addition to cleaning, detaching, conserving and reinstalling two of the mosaics.
The villa has a "Π" shaped ground plan with rooms built around a courtyard. These rooms unfortunately extend to adjacent properties and under the pavement of the regional road.
The courtyard (atrium) is paved with a floor mosaic made of large pieces of white stones, while on one side of the courtyard is a fountain for the collection and channeling of rain water into a duct.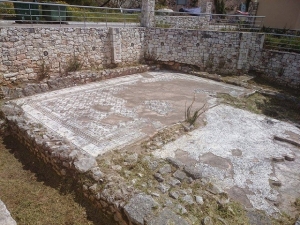 A large area in contact with the courtyard is also covered with a floor mosaic bearing geometric motifs.
Finally, the lower part of a built-in basin was uncovered near the courtyard with an adjacent well.
The building was abandoned in the Late Roman period and it was used as a burial place, judging by the tile-covered graves that were found during excavation.